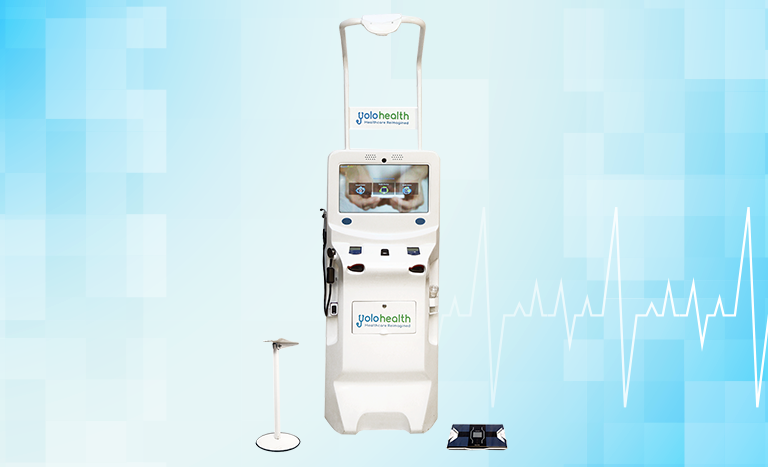 Basic Health ATM is an aggregation of US FDA / EU CE certified IoT-enabled medical devices combined with Yolo Health's proprietary HIPAA compliant software backend, and cloud-centric platform supporting Tele-Medicine facility. It is an intelligent and compact kiosk, for instant testing of 34 parameters – invasive & non-invasive. It comprises of Integrated Doctor Consultation Platform for medication administration, and patient management.
Service Features
Open API & Interoperable Network
Interactive user-friendly touchscreen with HD camera, and noise-cancelling mic
Instant Health Reports with medication prescription, and treatment recommendation
Integrated Medicine Dispenser
Several AI-enabled health check-up solution (Coming soon).
Technical Specifications
Type – Wall Mount, or Standing Model
Operating System – Android
Use Cases for Basic HealthATM
Basic Health ATM can be installed and effectively used in Primary Health Centre (PHC), Health Sub-Centre, Wellness Centre, Clinics, OPD Areas of Hospitals, Corporate Offices, Schools, and Anganwadi Centre for general screening purpose, and teleconsultation.
Our basic healthatm parameters
30+ Parameters

Height | Weight | BMI | BMR | Hydration | Body Fat | Muscle Quality Score | Visceral Fat | Bone Mass | Muscle Mass | Metabolic Age | Blood Pressure | Pulse Rate | Oxygen Saturation | Temperature

Blood glucose (Random) | Post-Prandial glucose | Hemoglobin

Glucose | Bilirubin | Ketone | Specific Gravity | Blood | pH | Protein | Urobilinogen | Nitrite | Leukocytes