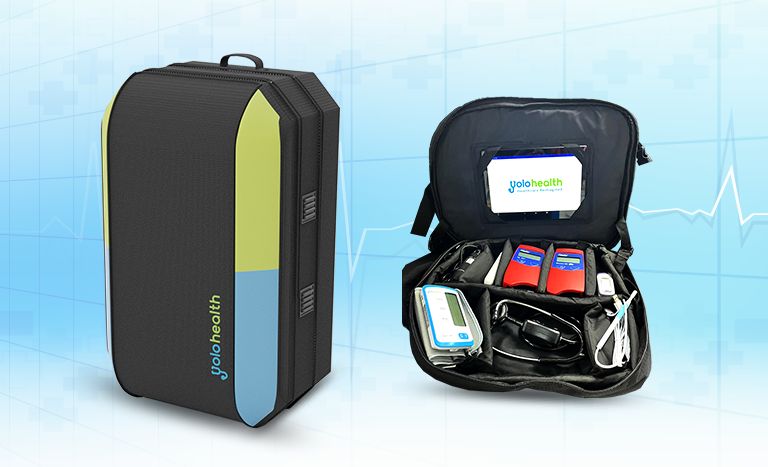 Health BAG is a portable smart healthcare box, which is an aggregation of US FDA / EU CE certified IoT-enabled medical devices combined with Yolo Health's proprietary HIPAA compliant software backend, and cloud-centric platform supporting Tele-Medicine facility. The Pro-wellness Health BAG covers instant testing, and automatic processing of 34 vital Non-Invasive & Invasive parameters.
Service Features
Open API & Interoperable Network
Interactive user-friendly touchscreen with HD camera, and noise-cancelling mic
Can be operated with minimal internet connectivity of 256 kbps for optimum quality video experience.
Instant Health Reports with medication prescription, and treatment recommendation
Several AI-enabled health check-up solutions (Coming soon).
Technical Specifications
Operating System – Android
Health BAG with all the essential point of care diagnostics are deployed to empower medical professionals to deliver door to door health screening services. It can be effectively used in most difficult terrains, geographically inaccessible areas, and for home care.
Our basic healthatm parameters
28+ Parameters

Height | Weight | BMI | Fat % | Muscle Mass % | Bone Mass | Hydration | Visceral Fat | Protein % | Metabolic Age | Basal Metabolic Rating | Systolic BP | Diastolic BP | Pulse Rate | Oxygen Saturation | Temperature

12 Lead ECG | Lipid Profile Check-up: Total Cholesterol (TC) | Triglycerides | High-Density Lipoprotein (HDL) | Low-Density Lipoprotein (LDL) | LDL/HDL Ratio | Non – HDL

Random Blood Glucose Level | Hemoglobin

Digital Stethoscope (Heart Sounds & Lung Sounds) | Derma scope ( Skin Check-up) | Otoscope (Ear Check-up) | Fetal Doppler Test (Fetal Heart Rate)